Wat is Poptalk?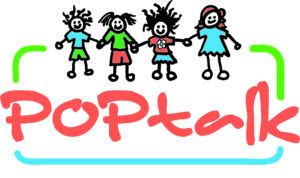 Poptalk vindt zijn oorsprong o.a. in de theorie van 'Een taal erbij' van Marleen Diekman en in de Davismethode van Ron Davis. Deze methode werd ontwikkeld om taalbarrières te overwinnen voornamelijk in de hulpverlening.

richt zich op de belevingswereld van het kind. Door een gesprek te visualiseren met behulp van playmobilpoppetjes en ander concreet materiaal, krijgt een kind inzicht in een gebeurtenis en/of situatie. De eigen werkelijkheid van het kind wordt hiermee in beeld gebracht.
Tijdens gesprekken wordt er meestal een beroep gedaan op de verbale vermogens. Met

maak je gebruik van beeldtaal. Hierdoor wordt er een beroep gedaan op de verbeeldende vermogens van een kind of persoon. In deze methode gaat het om het visualiseren van onderwerpen.

Voor wie?
 Personen/kinderen die problemen hebben met taal/communiceren
 Zeer moeilijk lerende kinderen (Speciaal (Voorgezet) Onderwijs)
 Personen met EMB (Ernstig Meervoudige Beperking)
 Beelddenkers
 Personen met autisme
 Personen met Alzheimer etc.
 Personen/kinderen die te maken hebben met rouw en verlies
Waarom?
Met

 wordt het mogelijk om meer inzicht te krijgen in de belevingswereld van het kind. Wat houdt het kind bezig? Wat is zijn eigen werkelijkheid?  Hoe voelt hij zich? En waar liggen mogelijke oplossingen? Door het gesprek in beeld te brengen met concreet materiaal d.a. poppetjes van  Playmobil,  Lego ect.  voelen kinderen zich beter begrepen. Beeldend materiaal helpt bij het bespreken van de eigen werkelijkheid.
Het gesprek kan gaan over:
 Ruzie                                         
 Pesten
 Grenzen stellen
 Weerbaarheid
 Doelen behalen
 Leerproblemen
 Rouw
 Verlies
 Scheiding
 Moeilijke situaties etc.
Werk je in het Onderwijs of Speciaal (Basis) Onderwijs? Werk je in de zorg (EMB) of ouderen? Werk je met personen met autisme? Ben je Kindercoach?
Dan is POPtalk dé methode om in te zetten wanneer communicatie niet mogelijk of moeizaam gaat.
Maar ook om (moeilijke) niet begrepen situaties inzichtelijk te maken.
Nieuwsgierig geworden? Schrijf je dan in voor de Tweedaagse Workshop!
Hebt u vragen? Wilt u meer weten? Of wilt u een gesprek plannen voor uzelf of voor uw kind, neem dan contact met mij op.
Voor meer informatie zie ook www.poptalk.nl